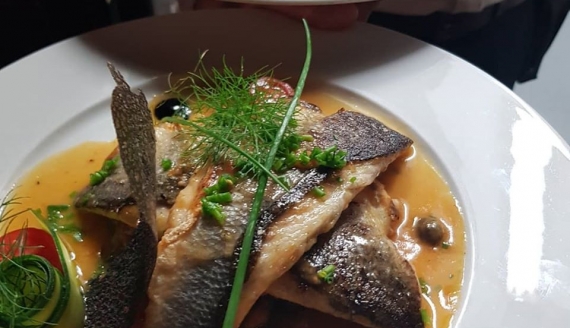 Fish and seafood specialties
Mediterranean delicacies always represent top quality plates and sensational flavors. Of course, the same must have a foundation in fresh foods processed and prepared in the best way. The above is waiting for you at the Cotton Club Restaurant & Bar seafood specialties.
Istria's rich history rests on the traditional gastronomic foundations of a variety of fish and seafood specialties. In order to discover all the most delicious sea shades of Istrian history, be sure to indulge in the delicacies that will be prepared for you by the chefs of this pearl in Poreč.
Nurturing tradition, history, and gastronomic foundations, Cotton Club Restaurant & Bar offers you the most varied and truly rich seafood recipes. Seafood combined with a variety of pasta while combining their shades and extracting the very best from these rich foods, as well as fish specialties - sea bass, tuna steak, grilled shrimp, salmon fillet, grilled squid and fried squid - rich are the offer of this restaurant, but only the basic components, as well as the processing and preparation of these dishes, achieve those juicy, unique and aromatic flavors.
The freshness of fish and seafood is crucial to highlight the rich and finest nuances of the ultimate specialties and delicacies. Cotton Club Restaurant & Bar will make sure that it meets your high expectations of their plate and gives you these basic components complete satisfaction of the tasted, but also the perfection of the whole gastronomic experience.