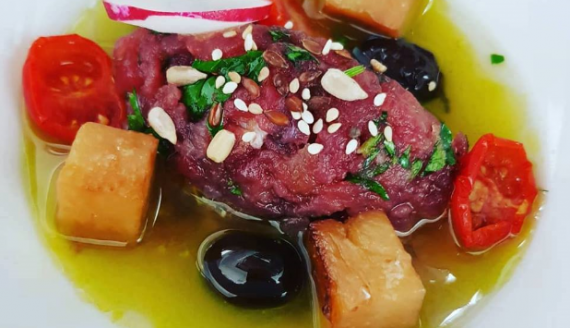 Istrian - Asian fusion that will impress you
One of the specialties offered by the prestigious restaurant Cotton Club is a combination of traditional Istrian dishes and exotic Asian delicacies that are an indispensable combination for hot summer evenings. Cotton Club is renowned for its top-class chefs who have kept up-to-date with the latest trends in the gastronomic scene with numerous and continuous educations. Skillfully combining traditional dishes of the Istrian soil with various foods from other parts of the world, has also brought this excellent Istrian-Asian fusion that will enchant everyone.
The main ingredient of this refreshing exotic dish is goma wakame salad, combined with tuna tartar enriched with sesame seeds and autochthonous Istrian extra-virgin olive oil. Goma wakame salad is a novelty that is becoming more and more popular on the gastronomic scene and originates from the sea depths of China, Japan and Korea. In Japan, algae are common food, whose popularity in the world of healthy foods is growing more and more every day. They have a sweet taste and soft texture, which matches perfectly with Istrian extra-virgin olive oil and homemade tomatoes. It's especially popular in sushi combinations, but also in vegetarian dishes. Namely, seaweed salad, the main ingredient of wakame pendulum, is rich in omega 3 fatty acids, as well as in calcium and iodine, which is why in China is often consumed during and after pregnancy. In addition, it has been proven that this beneficial alga helps fat burning in the body, besides its caloric value is minimal.
This extraordinary specialty will delight you with its refreshing notes and exotic touch, skillfully embedded in the authentic Istrian ambiance. Tradition and innovation are one of the irreplaceable combinations that the professional staff of Cotton Club skillfully transforms into the fusion of the taste and aroma of the Far East and the Mediterranean prepared in the authentic landscape of Istrian cuisine.