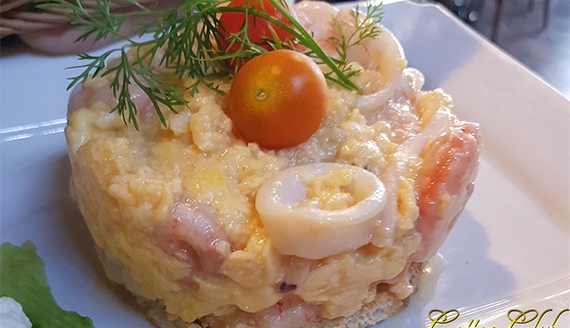 Cotton Club - "Seafood omelet"
The Exclusive offer of Cotton Club brings new spring delicacy for your palate - seafood omelet (fritaja)! In the finest combination of this specialty, you will find squid, shrimp, clams, with the addition of black-cut olives, capers, and feta cheese. Fritaja is a traditional Istrian dish that requires the skill of egg preparation, most often in a variety of domestic specialties. In Cotton Club you will find a rich offer of authentic recipes from Istria, always with a touch of innovations and individual mark, including this unique gastronomic specialty with fresh seafood.
Various combinations of crabs and shellfish are an indispensable part of the tradition of Istria, which are carefully selected not only for its top quality but also for extremely rich nutritive values. For example, shrimp is rich in protein, delicious flavors, while clams, shells that are best to prepare in the spring when they have the fullest flavor, are rich in proteins, minerals, and vitamins. Caper, aromatic flower buds, is a Mediterranean spice that is often used as a supplement to many dishes. They are also known for their aphrodisiac properties but are also full of antioxidants. The preparation of local specialties at Cotton Club has reached the level of art as each dish is prepared in a special and innovative manner, with the great knowledge and skills of experienced chefs of this prestigious Poreč restaurant. Situated at the entrance of the old town center, the Cotton Club offers you a unique Istrian gastronomic experience, provided by some of the best culinary experts, in the rich offer of traditional Istrian and Dalmatian dishes.