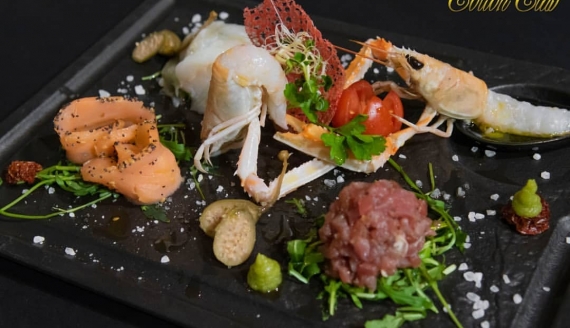 Gastro pleasures of Cotton Club
In the very heart of Poreč, at the entrance of the ancient Decumanus, you will find a place
of gastronomic delicacies made by the Cotton Club. The place where authentic Istrian
cuisine is combined and the original recipes of skilled chefs of this elite place, you will find
the most delicious specialties that will delight even the most demanding palate. From the
rich offer, Cotton Club features meat dishes like homemade prosciutto and cheese, then
black angus steak on a cotton club way or a delicious grilled beefsteak. Seafood lovers will
find a handful of delicious combinations of the freshest fish such as sea bass a la
Mediterranean with tasty homemade vegetables, tuna steaks, grilled salmon or
unavoidable gastronomic pleasures - grilled shrimps.
If you prefer pasta dishes, there are pasta al calamari, with squid, parsley, tomato and
wine, or delicious penne portobello, pasta with cooked ham and prosciutto. Inevitable
truffles, a unique Istrian specialty, can be found in the tagliatelle al tartufo with a classic
French-style veloute sauce . In addition to this varied gastronomic offer, in the Cotton Club
you will also find a wide selection of top-quality wines, which will be selected only for you
by the pleasant staff of this prestigious restaurant. Spend an unforgettable evening at one
of the best restaurants in Poreč and Istria and give your palate an unforgettable taste of
top-quality specialties that will be prepared only for you in the Cotton Club!