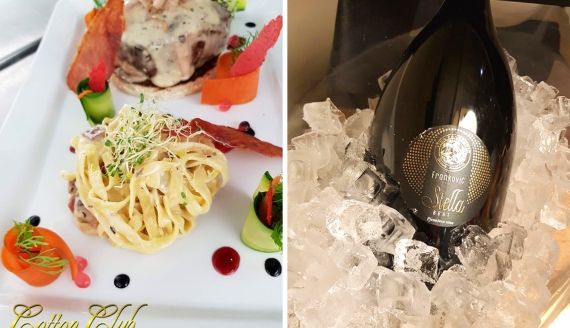 A gastronomic pleasure to remember
A pleasure to remember - it's a pretty high goal to set up this summer. Whether it's the pleasure of warmth of the sun, a beautiful view that stretches in front of you or the vast beauties of the Istrian cities - whatever pleasure you are looking for, you will definitely find it in Poreč. If we are to add a unique gastronomic pleasure - all of the summer experience will truly be remembered!
The already refined palates are quite picky and looking for new flavors and gastronomic ecstasy. As you are not to be disappointed, be sure to go to the Cotton Club - Restaurant & Bar Poreč! A refined and warm ambiance that truly guides you through an unforgettable gastronomic experience is what the chefs are aiming for when creating Istrian tradition on a plate. By equating the tradition with the notes of modernism and luxury, the dishes are at the level of true art that perfectly combines with home-made olive oil and premium wines that fit perfectly with their notes and nuances.
Naturally, the ultimate homemade pasta is inevitable. Their offer of pasta is really great and you will have trouble choosing only one - pasta "ai calamari with squid", parsley, tomato and wine or perhaps the delicious "Penne portobello", pasta with boiled ham and prosciutto - are just some of the offers you can choose between and from which can be seen a true gastronomic and artistic creation. "Alla Putanesca", "Tagliatelle al tartufo", "Tagliatelle Cotton Club" are also delicacies prepared from homemade pasta that truly merge with their exotic names and intrigue the palate in a way where it's true richness of taste and juice can not truly be described.
Along with the top menu of pasta, wines perfectly adhere with their notes out of a high-quality wine card that unites the flavors and aromas of all plates, in fact creating true gastronomic and artistic pleasure for your memory.