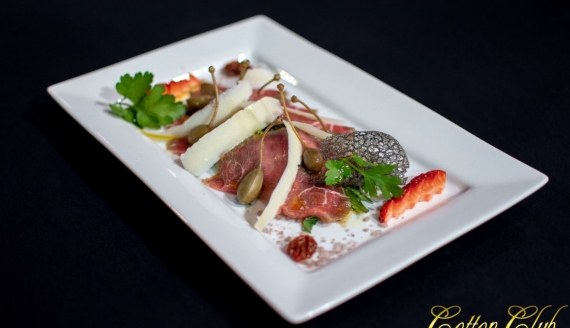 Rich variety of gastronomy and superb gin
The variety of the menu is one of the main characteristics that should be present in a truly rich gastronomic scene - a variety of flavors, a wealth of colors and irresistible scents, as well as perfectly coordinated foods whose shades complement each other and create the true ecstasy of the best gastronomic flavors. You can find all of the above at Cotton Club Restaurant & Bar!
The variety and richness of their specialties on the menu make for a truly amazing offering that will satisfy all of their taste buds. Meat and fish dishes are prepared in a variety of ways to satisfy every gastronomic aspiration, but also to highlight all the nuances of these dishes. A lot of love goes into their home-made pasta - handmade, perfectly preserving their most valuable qualities and nuances, as well as the ultimate taste hiding in the delicacies of "alla puttanesca", "ai calamari", "penne portobello", "tagliatelle al tartufo" and "tagliatelle cotton club", to discover all the flavors behind these names, you just have to taste them and penetrate all the secrets of flavors and aromas that will win you over!
In addition to aromatic gastronomy, Cotton Club Restaurant & Bar also offers a number of fine drinks, one of which is gin. A very popular and refreshing gin-tonic, the Cotton Club prepares itself in a special and truly original way - besides using a dozen of the most famous gin brands, special preparations and herbs come from their own cultivation! Cotton Club cultivates a number of local aromas of the Istrian region, such as basil, rosemary, mint, and citrus, and thus gin-tonic uses fresh and first-class raw materials.
Cotton Club Restaurant & Bar is truly the right place for a combination of unique and varied gastronomy as well as exquisite beverages that are adorned with self-grown ingredients. Indulge yourself in the variety of Cotton menus and taste the new flavors of their plates and glasses!